I've been following PALM a long time and may have traded the stock once or twice.



Before I go much further I should preface this commentary with the following:



I consider myself tech savvy enough but have very little interest in mobile computing.

I have a cell phone that makes phone calls.



That's It



It does not have a radio, camera, mp3 player, gps or internet connectivity. All I want is a cell phone that does not drop calls.



Period.



I don't want Your Book, MySpace, MyFace and whatever other social networking places there are, where I can stay constantly connected via mobile technology. It holds no interest for me.

I resisted cell phones long after everyone else had them, my wife included, because I viewed them (and still do) as electronic tethers.
I finally got one because it was a requirement for the job.



As a result of this personal bias, I missed out on some very valuable investing opportunities.



I look around and see people with their phone receivers hooked around their ears, their white IPOD ear pieces in their ears, their belts loaded up with mobile gadgets and their hands either clicking away on Black Berries or mobile video games.........my only thought is that it will be a cold day in hell before I end up wired up to cyberspace and the world at large on line, all the time.



That is not for me.



It does not however mean that I will continue to overlook the world of mobile computing as an investment arena:

PALM has been steadily losing market share, share value and capital. PALM needs something big to turn it around and get it once again competitive with industry leaders. It needs to be different and substantially better, preferably minus anything associated with the Windows platform - some bias here as well. It also needs capital.

Looks like a tall order to me and really requires a minimum of due diligence.



Here is a minimum:



Rumor Control

The first blip on my personal radar screen was some months ago when I heard a rumor that several Apple engineers and senior vice presidents quit Apple to go to work for PALM. A couple weeks ago I heard another rumor that PALM spirited away a senior engineer or three from NVIDIA.

That got me thinking PALM just might have something interesting. What could be interesting enough for people to leave what are undoubtedly good paying positions with enviable companies? Something better?

What is this new product? Good luck finding out.



The Product





From Wired.com - http://blog.wired.com/gadgets/2008/12/palms-new-os-ph.html





Palm is planning a massive product launch for the upcoming Consumer Electronics Show in Las Vegas next month. It could be the company's last, best shot at survival.





"It's quite likely, actually close to a certainty,

that they will show a new OS, new user interface and probably new hardware

," says Lawrence Harris, an analyst for Wall Street brokerage firm CL King & Associates. "This is

Palm's last shot t

o prove it has what it takes to survive in a very competitive market."





''''




Now Palm has industry watchers buzzing about its plans for a CES press conference. According to analysts contacted by Wired.com, the company

is likely to debut its new, Linux-based operating system, dubbed Nova

, and show the first of a new family of smart phones that would use the OS. Nova is scheduled for release in the first half of 2009, the company has previously said.





CES, the largest consumer electronics products fair in the U.S., will clearly be a make-or-break event for Palm.

The company recently posted second-quarter financial results nearly 40 percent below

what some Wall Street analysts had projected. Sales of the Centro smartphone, the company's biggest seller, have been fading. Palm also faces

strong headwinds from a weakening economy.




............




Palm currently uses its Palm OS, aka Garnet, and Windows Mobile for its handsets.

However, Palm OS is restricted in its use. It lacks support for high-speed HSDPA networks, also known as 3G mobile technology.





Nova could fix that

and offer Palm an opportunity to create a new family of products that would

go beyond

the Centro and its Treo line.




...............





Palm may have gotten industry watchers buzzing but, so far, it has held its cards close to its chest. T

here have been almost no leaks about new hardware or features of the upcoming OS

.





It could be a result of the culture that the company's many

recent hires from Apple

may have brought with them.





Over the last 18 months, Palm has hired a number for former Apple executives including Jon Rubenstein who was instrumental in the creation of the iPod, Lynn Fox, former head of Mac PR and Paul Mercer, a former Apple engineer.





"It is part of the Apple culture to keep things under wraps," says Harris. "And now we are seeing greater secrecy than ever from Palm."




---
Capital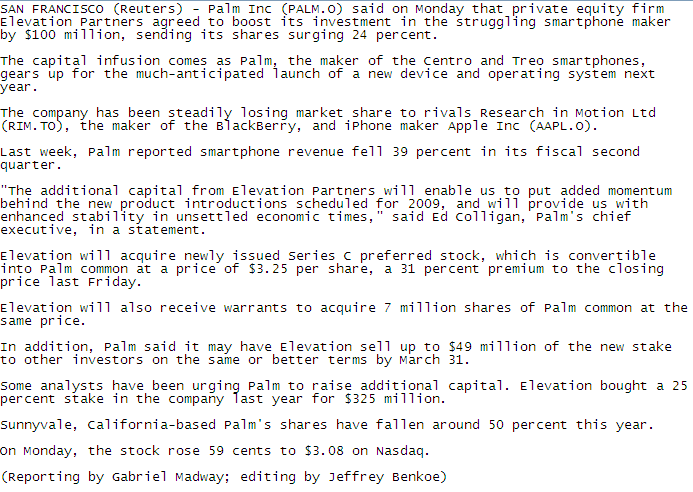 ---
Competitors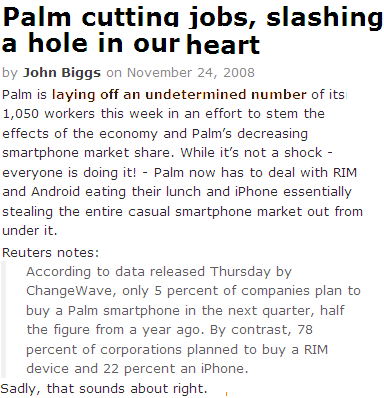 Conclusion:

I ended up buying a boat load at $1.82 and $2.08 a share. I chickened out and sold 33% at $2.82 and am holding the rest.
This was before the announcement of the 100 million capital infusion last week, As of today, 12-23-08, shares have risen above the convertible Class C shares at $3.25 a share to $3.65. I would imagine those who put up the 100 million are expecting a return considerably better than a 40 cents a share.

Elevation Partners has invested 425 million dollars in Palm................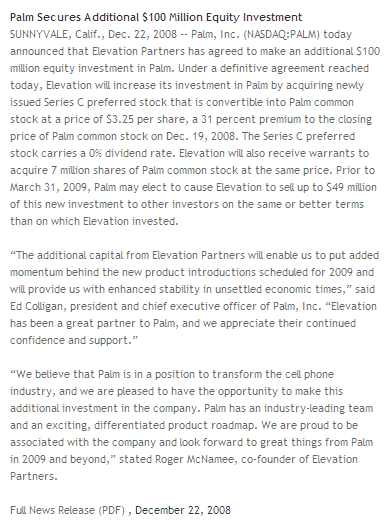 I was watching CNBC where a couple other interesting factoids came out:



Feature Phones to Smart Phone:



Smart Phone market share has increased from 3 to 6%

Blackberry has < 3% global market share - look at the size of just Blackberry the company.

Palm's New architecture is expected to last 10 - 12 years (Good Luck with That).

Elevation Partners has 39% stake in Palm, and my guess would be they are not invested to lose money.

More Information:

Is this new smart phone going to wow those at CES and perhaps provide another direction for mobile technology sans anything Windows related? I hope so.


---

Exit Plan

If Stock goes over $7.00:

Replace 300' of old fence with new, guaranteed never to blow down privacy fence.



If stock goes over $15.00



Xeriscape the front yard.

Otherwise

Use stops on a portion of the remaining shares to ensure profit / loss stays on the 'profit' side.