Wife and I loved you Cairn story.
We are on Cairn #3. Cole has never and will never work for NASA, but he's sweet and loves people. (Hates all other animals, mail trucks, UPS and FedEx trucks and drivers, etc., etc.)
All of our Cairns have had very varied personalities.
A quick story about Gizmo, our first Cairn.
When we finally bought our first home, our daughter, on her 16th birthday decided she'd like a dog. I was on the road when she announced this to my wife who started by calling the local shelter before calling me.
The owner of Cobblestone Kennels reported that they just got a 4-year old Cairn male and she thought he might be a good fit.
(WHAT????)
When I arrived home, we went to visit with Gizmo. The kennel owner reported what good boy he was and that he was fully house broken and would NEVER make a "mistake" in our newly renovated home. She brought him out to meet us at which time he immediately got the "Oh, he's so cute!" and then he proceeded to take the biggest dump ever recorded in Cairn history. The Kennel lady said, "Oh, This is my fault! I wasn't paying attention to the clock!" At which time Gizmo took a second dump. I asked, "Who's responsible for this one?"
Wife and I were both dog people although I'd never had one and for no apparent reason, were not put off by this episode.
Gizmo was the best first dog experience anyone could have. He was a love, well behaved, only barked at the mail person and, although was abused in his first home, glued himself to my wife and myself.
The only person he was not enamored with was my daughter, his owner for roughly two weeks. (Of course, she then realized he required care, love and feeding, none of which she would allow cutting into her teenager time.)
Am sure we'll always be Cairn owners although, they are certainly….
NOT for everyone!
Best, Tom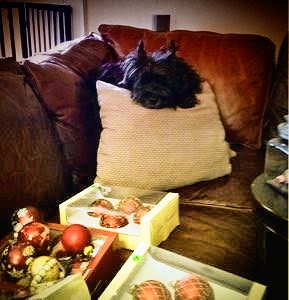 Cole, Our present best buddy helping with the holiday decorations
Gizmo and me after a
truly
long winter day