---

Western Lithium - Another Organo Clay Delay at the end of this Month?.............of Course.........





I was kind of thinking about a year-end surprise insofar as some positive news coming out regarding the manufacturing of organoclay and subsequent contracts but that never happened. I picked up a few more shares in the low 50's, which is now my cost basis. They say no news is good news and while that is generally true, no news when it comes to penny-stocks usually is accompanied with a slow deterioration in share price, which is what is happening now.

Personally, I am putting in some sell orders for about half of the investment staggered up to providing a 20-30% return should a knee-jerk reaction upwards happen upon the release of any good news.

Those knee-jerk spikes usually don't last long at all - sometimes for only a matter of minutes and if you don't have any limit orders in, it is very easy to miss out on those short money-making opportunities.


---
Staples (SPLS)





I thought that if I held on to Staples long enough, it would be a winner but I never expected it to be the portfolio winner for the year. At a 50% return, the only other holding that came close was AAPL.

I am not sure why the run-up, other than on rumors and speculation, but I'm not complaining. The PE and yield are still reasonable so I think this is worth holding on to for a while longer. I don't think I would be adding any new shares, though.


---
Materialize
- a Recent IPO and not a Winner





I invested too much in this IPO. Materialize is in the 3D printing sector, selling software rather than printers and I thought given the areas it was involved with, health care in particular, that this would be a money-maker.

Maybe it will over time, but I ended up selling half at a loss and am letting the other half ride for the time being.

At these prices if one wishes to do some speculating, the current share price looks attractive but I am not picking up any more shares.


---
Nevada Copper
(NEVDF) - The Perils of Trading in Thinly Traded Penny Stocks.



Believe it or not, the Lyon County Land Bill passed, the teleprompter signed it and everything was good to go. The share price barely bumped up and volume was far less than what I would have expected.

Around the beginning of December, the share price of $1.15 and change was too much for me to pass up. I figured that any good news would get me a nice return (on those shares anyway) of 20% or so if I didn't get greedy. Three weeks later my target price was there, but the share volume wasn't. I was trying to sell more shares than what was being traded.

Then for no reason I could find, on December 31, the price and volume started spiking. I was finally able to off-load those shares for a return right at 20%.

The remaining balance of the shares shares I am holding are still down 13-30% but I am not too worried about that. The price of commodities in general does have me a bit concerned but when you are dealing with penny-stocks, reality does not often factor in when it comes to price movement.

Either way, this year I am looking to lighten up on the cheap stuff and remove some of the volatility from the overall portfolio.


---

Instant X-Ray Year-End Review.

Morningstar's Instant X-Ray is a great way to evaluate how your portfolio is weighted and I try to use it once a year. It can be an eye-opener especially when your portfolio consists primarily of mutual funds or ETF's.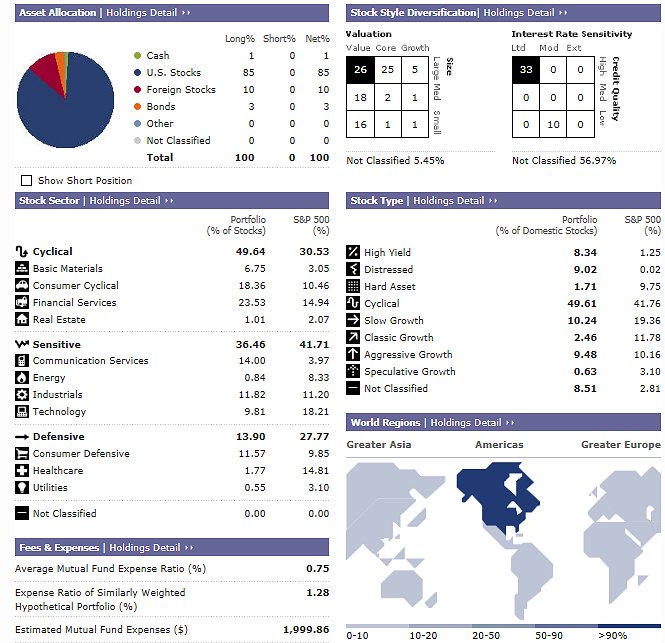 49% cyclical with an emphasis on financial services is a good place to be if you think the economy is in recovery, albeit a slow one.

I'm overweight in communications and underweight in tech. This is because I think communications is a no-brainer and conversely, I am lousy at picking tech stocks.

Health care is another one I have never had much luck with and the investment mix reflects that.

Utilities.........If I really wanted to get into that, An ETF or mutual fund would probably be my first choice.






The stock stats look fine to me and I plan on keeping them using this general mix.


---
One Final Observation: XL Capital (XL)



XL Capital is an insurance company now based in Ireland and is a long term holding of mine. Generally you don't see much in the way of news regarding the company and it typically flies well under the radar screen. Over the last couple months there has been more news blather than one typically sees for a company in this industry.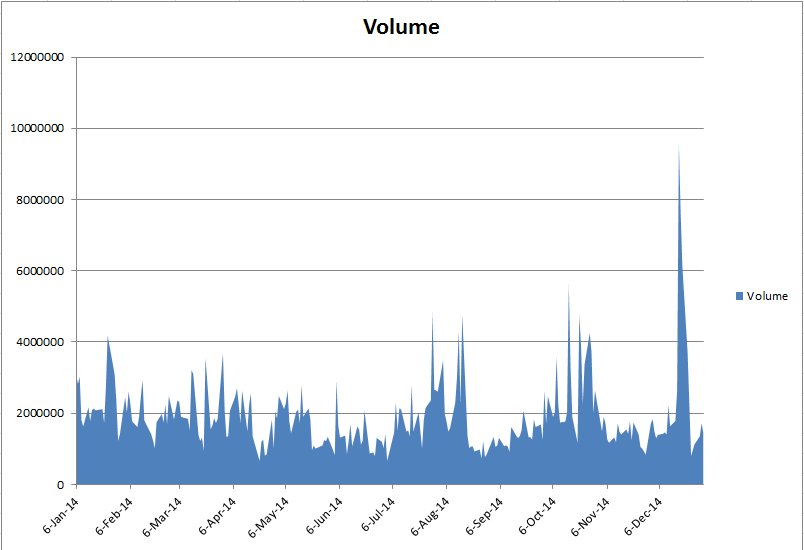 Volume has been picking up over time and in December, there was a huge volume spike, which was probably the result of acquisition / merger talks: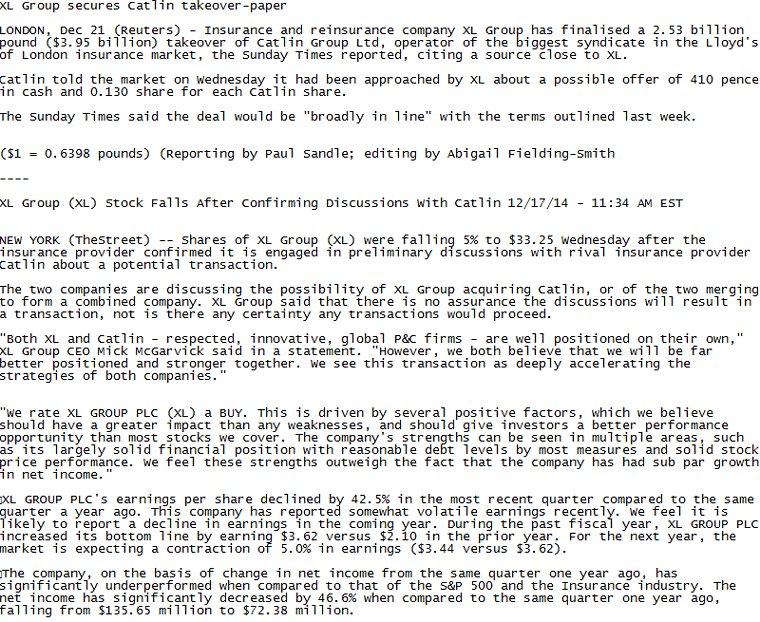 Snippets from a real article and ones from a computer-generated news release seem to me to tell a more negative, than a positive story.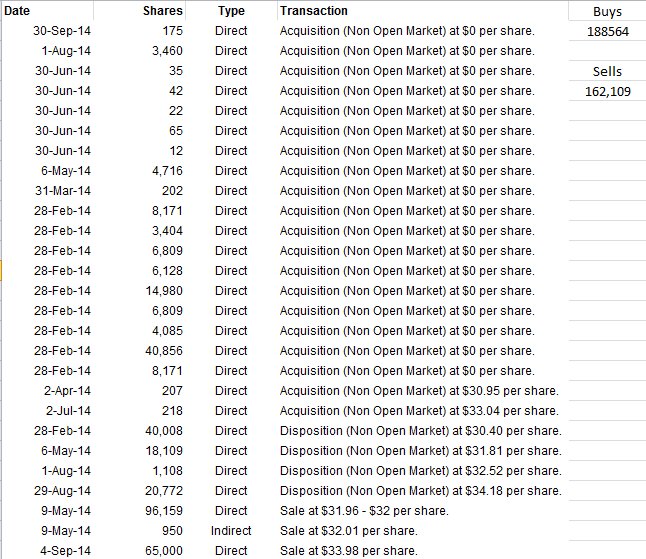 Looking at insider buys and sells over the last year, it appears there has been more buying than selling and the selling involved two major transactions which could have been for any reason. There were more buys at the beginning of the year than at year's end. This seems to me to conflict with the overall opinion one sees in the news.





Valuation as compared to its competitors is high, however YOY it has lost less in share value than similar companies.

I don't know what all this means but it does seem XL is on someone's radar screen and it is garnering more attention than usual.

Might be worth a little speculating just for the heck of it.


---

And last but not least, the

Capitalist Pigs latest Monthly Newsletter

.

This newsletter deals primarily with the decline in commodities and is a good primer on same.

One thing......don't pay attention to the charts if they are confusing (I am not a chartist so sometimes they are). Ignore the charts and read the text, which makes a lot more sense to me than the charts often do.


---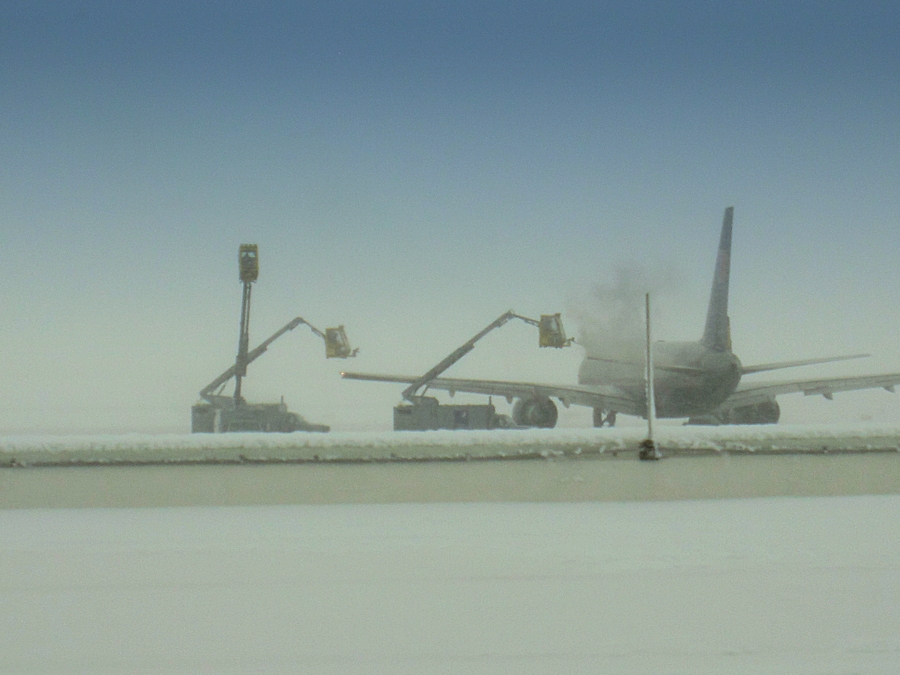 A fine winter day at the DIA