---
The Professional Opinion



DJIA: 10014.72



Stats:

LEI - Leading Economic Indicators: Increased .1% in July. Is entering a 'slower growth trajectory'.



Economic Growth -

Not improving anytime soon with weak housing numbers and high unemployment. Real GDP growth grew at an average rate of 2.7% during the first six months of the year.

Leading Economic Index Indicators:



Up:

Interest Rate Spread, Vendor Performance, Avg Weekly Manuf Hrs, Avg Unemployment Claims, New orders on non-defence goods.




Down:

Consumer Expectation Index, building permits, real money supply and stock prices.



Coincident Economic Index -

Rose .2% in July.



Up:

Industrial Production, Personal Income, Manufacturing and Trade Sales..




Down:

The number of employees on non-farm agrictultural related payrolls.



4 Week Average Jobless Claims:

Stubbornly High - Teleprompters are not the answer to job growth.



Industrial Production:

Up and helped out by GM keeping most of its procuction facilities going.



Business Equipment:

Up 1.8% in July. Computers and electronics rose 1.1% . Industry leaders predicted a 'Modest Recovery.'



Housing:

Not good, although the average median price for home sales has risen .7% to $182,000 and change.

Inflation

:

None on the horizon.



---

Summary

A reminder that every mid-term off-presidential year correction over the past 50 years has prodced a rally in the S&P 500 index of at least 27%, making a range of 1275 to 1325 not out of the ball park.

Assuming you wish to take on market risk, stay fully invested and buy on the dips.


---

Buy Recommendations

Suncor (SU) when you can get it under $33.00 a share.



Comment:

I have found that with this stock and a beta of somewhere around 1.7, Suncor makes for a better trading stock than a buy and hold stock. You just need a little patience.

So How have Bob's Funds been doing since 2005?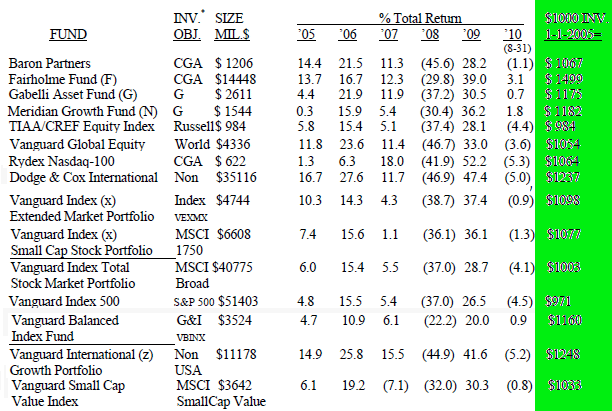 This is another reason why I think one could do better with a portfolio of stocks.