---
What a Month.

The dramatic seems to happen whenever I leave the country and of late the dramatism usually errs towards pessimism. It certainly started looking that way this particular morning.

I had just got done reading 'Confessions of a Sub prime Lender: An Insider's Tale of Greed, Fraud, and Ignorance' by Richard Bitner.
The book was written in layman's language and very easy to understand. The last chapter of the book discussed Alt-A mortgages, something I had not heard of. These mortgages offered very low interest rates, some as low as 1%. If someone took the 1% option then the loan principle actually increased each month, which is called a reverse amortization loan.

Why is this bit of information important? Imagine you have one of these Alt-A mortgages in Las Vegas. You bought a home for lets say, $500,000 two years ago. Two years later the house is now worth $300,000 and your 1% Alt-A loan interest is due to reset at the going rate. Your mortgage is going to shoot through the roof at a much higher interest rate and your original $500,000 loan is now $550,000 because you chose the 1% interest rate for the first two years and you thought you would be flipping the house before the rates rose.

These loans allowed people who couldn't get into a house any other way to get in. Odds are they couldn't buy a home because they didn't have a down payment and their income was marginal at best. Multiply one of these loans by who knows how many homes in Nevada, California and Florida and add in all the home flippers who used these loans to buy at the top .... can you say 'Disaster, Part 2?' According to the book, the first major wave of these Alt-A mortgages are due to reset sometime in 2009.

Ever had the feeling you were being nudged? I got that feeling and started searching for banks and other lending institutions that hold these Alt-A mortgages. I was specifically looking for banks I currently hold.

What appeared the following morning? An article by the WSJ in which it reported that Wells Fargo is holding quite a bit of this paper and they are using various accounting maneuvers to push out and delay reporting on Alt-A losses: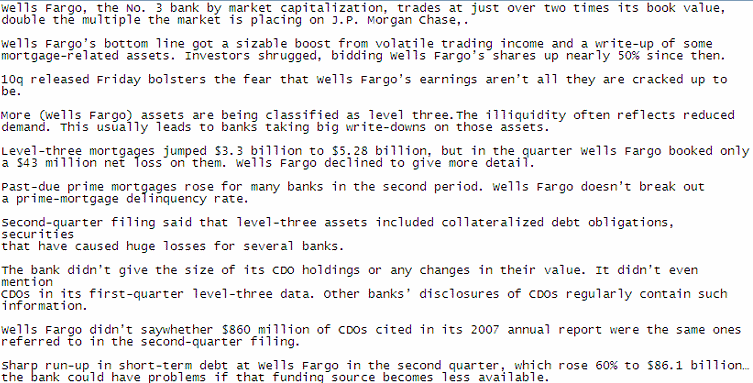 Gulp.

I sold the position.


---
Some sobering Bill Gross Commentary:
U.S. Must Buy Assets to Prevent `Tsunami,' Gross Says
By Jody Shenn
Sept. 4 (Bloomberg) -- The U.S. government needs to start using more of its money to support markets to stem a burgeoning ``financial tsunami,'' according to Bill Gross, manager of the world's biggest bond fund.
Banks, securities firms and hedge funds are dumping assets, driving down prices of bonds, real estate, stocks and commodities, Gross, co-chief investment officer of Newport Beach, California-based Pacific Investment Management Co., said in commentary posted on the firm's Web site today.
``Unchecked, it can turn a campfire into a forest fire, a mild asset bear market into a destructive financial tsunami,'' Gross said. ``If we are to prevent a continuing asset and debt liquidation of near historic proportions, we will require policies that open up the balance sheet of the U.S. Treasury.''
The government needs to replace private investors who either don't have the money to buy new assets or have been burned by losses, Gross said. Pimco, sovereign wealth funds and central banks are reluctant to fund financial firms after losses on investments they made to support the companies, Gross said. The world's biggest banks and brokers have raised $364.4 billion in new capital after more than $500 billion in writedowns and credit losses since the beginning of last year.
Since financial markets seized up a year ago as the subprime-mortgage market collapsed, the Standard & Poor's 500 Index has fallen 13 percent and home prices are down more than 15 percent. Yields on investment-grade corporate bonds, debt backed by commercial mortgages as well as credit cards reached record highs last month relative to benchmark rates.
`Mom and Pop'
Gross cast a bleaker view for the prospects of the world's financial markets than in previous notes to clients. The fund manager has previously called on lawmakers to support housing with legislation passed in July that allows lenders to forgive some of homeowners' debt and then refinance them into government-insured loans.
Pimco, a unit of Munich-based Allianz SE, is seeking to take advantage of declines in home-loan bonds. The firm is raising as much as $5 billion to buy mortgage-backed debt that has plunged in value, according to two investors with knowledge of the matter. The Distressed Senior Credit Opportunities Fund will invest in securities backed by commercial and residential mortgages, said the people, who asked not to be identified because the fund is private.
Paulson Rescue
Treasury should support not only mortgage finance providers Fannie Mae and Freddie Mac, but also ``Mom and Pop on Main Street U.S.A.,'' by subsidizing rates on home loans guaranteed by the Federal Housing Administration and other government institutions, Gross said. A new version of the Resolution Trust Corp., which bought assets from failing institutions during the savings-and-loan crisis of the 1980s, may also work, he said.
U.S. Treasury Secretary Henry Paulson arranged a rescue package for Washington-based Fannie and Freddie of McLean, Virginia as concern escalated the government-chartered companies didn't have capital to withstand the housing slump. Treasury pledged to pump unlimited debt or equity into the companies should they need it.
As Fannie and Freddie, banks, securities firms and hedge funds shrink, yields on all debt assets will rise compared with benchmark rates and volatility will increase, Gross said. The declines will end once sellers have depleted their assets and sufficient capital has been raised, Gross said. Unless ``new balance sheets'' emerge, prices of almost all assets will drop, even those of ``impeccable'' quality, he said.
`

Anorexic' Appetite
The extra yield demanded on Ginnie Mae's 30-year, current- coupon mortgage-backed securities over 10-year Treasuries has climbed to 1.75 percentage points, from 0.87 percentage points at the start of last year, according to data compiled by Bloomberg. Bonds guaranteed by the U.S. agency are backed by the U.S. government. Spreads on 2-year AAA rated bonds composed of federally backed student loans have climbed to 0.95 percentage points over benchmark rates, from 0.01 percentage points below, Deutsche Bank AG data show.
``There is an increasing reluctance on the part of the private market to risk any more of its own capital,'' Gross said. ``Liquidity is drying up; risk appetites are anorexic; asset prices, despite a temporarily resurgent stock market, are mainly going down; now even oil and commodity prices are drowning.''
Home Prices
The decline in home prices hasn't been seen since the Great Depression, Gross said. That drop translates to an even bigger decline in overall wealth as the effects ripple through markets, Gross said. Home prices in 20 of the largest U.S. metropolitan areas fell 15.9 percent in June from a year earlier, according to an S&P/Case-Shiller index.
Fannie and Freddie 30-year fixed-rate mortgage bond yields, which influence the rates on most new home loans, have probably risen 75 basis points because of the waning demand, Gross said. A basis point is 0.01 percentage point.
The Pimco Total Return Fund returned 9.8 percent in the past 12 months, beating 97 percent of its peers in the government and corporate bond fund category as of Sept. 3, according to Bloomberg data. The returns are 5.76 percent annually over five years. Pimco has about $830 billion of assets under management.
About 61 percent of Gross's holdings were mortgage-backed securities as of June 30, mostly debt guaranteed by Fannie, Freddie or Ginnie Mae, according to data on Pimco's Web site.
``In a global financial marketplace in the process of delevering, assets that go up in price are rare diamonds as opposed to grains of sand,'' Gross said.
---

There must be some good sized banks with no sub prime exposure and trading at fire sale prices so I started doing some searching and came up with this:






I got it a eight and change and it looks like it has room to run. Fitch and Company had some comments on the stock as well.
The Report is Here: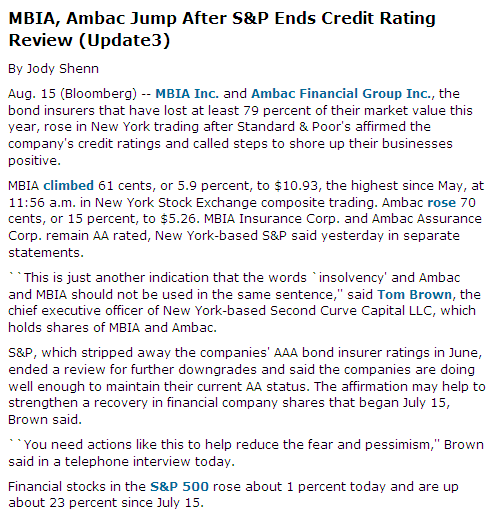 Later that morning another article came out in which the ratings services stated they were taking Ambak and MBIA off their watch list, prompting a sharp run-up in the stock which prompted me to sell into it and I managed to get back into it at another nice price.
Sold it again the other morning. I imagine there will be more chances to buy this a bit lower.






I used the proceeds to double my position in BGS foods. They actually do pay out that healthy dividend and the stock is trading
near its lows. They didn't make as much the last time around because of an increase in syrup prices. No big surprise there.




I also doubled down on E-Trade Financial in the low 3's. They have been increasing their subscriber base and are issuing positive-sounding statements. I don't know how much if any Alt-A paper they have and that is a big question mark.
I bought this before I finished reading the last chapter in the book. Research is ongoing.





Masco (MAS) is one of the stocks I hold in an after-tax DRIP plan and it is down significantly off its highs. I decided to add this stock to the retirement portfolio, with dividends set to reinvest. The stock is yielding around 5% at this prices, which is more bang for the buck than GE. Should have bought in the 14's, but I didn't have any real idea which direction the stock was headed.





Time to nibble on Wireless Ronin (RNIN) again? I think maybe so and picked up a little in the low 3's. A steady stream of PR's usually
pushes the stock price up and rumor control has it that more news may be the case. One thing about RNIN's news releases - there is not a lot of fluff. They are pretty good about just reporting the facts. Here is one of the latest: