Personal Portfolio

My portfolio trounced Bob's this time around primarily because of my large position in the Hodges fund and the nice run-ups in the small cap stocks.

The energy sector funds shot up faster than I thought they would this last month so I took some profits off the table and used those for the bank stocks. This puts me into 15% stocks and 85% mutual funds, which will save on future management fees.

Meanwhile, my wife's Fidelity 403B plan is in total shambles which is prompting me to pay a visit to the CFO of Douglas county this afternoon. New IRS regs caused a change in providers for 403B plans. Existing providers were required to respond to an information request as to their plans for complying with the new IRS regs. Apparently, Fidelity and other good, no-load providers did not respond in time and got booted off the list.

Guess who did?

AIG Valic, American Fidelity, Life Insurance Co of the SW, Security Benefit (

all Annuities

) and Waddell and Reed (

5.75% front end load

-

not waived in a 403B program

).

I would think a CFO would have a fiduciary responsibility to plan members and if not that, at least have a moral one.

Perhaps any feelings of guilt over screwing an entire district were assuaged by a complimentary vacation trip for two to the Caribbean, or a 'Stepping out Package' at the Nugget.

Of course I can't rule out pure ignorance or incompetence either.




---

New Additions to the Lineup





I decided to take a 2.5% position in Bank America this month for several reasons. I like the company, I think the financial sector is bottoming out and the .64 cent dividend is quite attractive. That dividend translates into a return of somewhere around a 9% return if held the entire year.

There is a downside of course and that is in the dividend getting cut. If you look at the quarterly revenues and divided that by the number of shares out, multiplied by .64 cents - the majority of their earnings are going to be paid out as dividends. That means that unless business picks up, the dividend could get reduced and the stock will probably take another hit as a result. We will see what happens.



Another 2.5% went into Wells Fargo. Who knows how low these stocks can go, but they look like a bargain to me. Also, I will have another 5% of the portfolio free of mutual fund management fees which means I will be keeping more of my money.



I also decided to take some profits in SIMG and used the proceeds to supplement the buys of BAC and WFC, as well as an increase in my only food stock:



I think this stock is a good place to be for a while. Its dividend is yielding about 8%, which is not bad considering the current climate.
---
ITW DRIP Registration - Part III

Here we are one month later and guess what - the paperwork for registration never showed up. Why doesn't that surprise me. I got on the phone and once again expressed my displeasure with establishing DRIP plans, and why is this so hard?

The lady on the other end checked her records and said the package was sent out to me six days after my original phone call. She said she would resend the paperwork or.....I could do all this on line. Not believing that, I asked here to show me. She did and I got registered - apparently. I can apparently have automatic deductions made to the DRIP account on line as well.

I then asked the helpful lady how this is possible when I hadn't yet taken the forms down to the local bank where they can be stamped so I can prove I am me and I am not going to use my three shares of ITW to finance terrorist activities (Masco Drip). She said she couldn't answer to that but as far as she knew nothing else was required.

We shall see.


---

Summary

Now would be a good time to double-check those fund / stock allocations and ensure you are adequately diversified. I decided to start taking the energy sector funds and paring them back to 5%, using those proceeds to buy up some of the really cheap blue-chips. Me, I chose Bank of America, Wells Fargo and some more BGS Foods.

About those DRIP plans - I may have this wrong, but apparently Computer Share lets you start new DRIP plans with just the touch of a button, once you have an account with them. I will experiment with this a bit once I know the ITW Drip account is in fact up and working. It might be worth checking out if you feel so inclined.

Oh, and before I forget.......Check out this Cool Site of the Day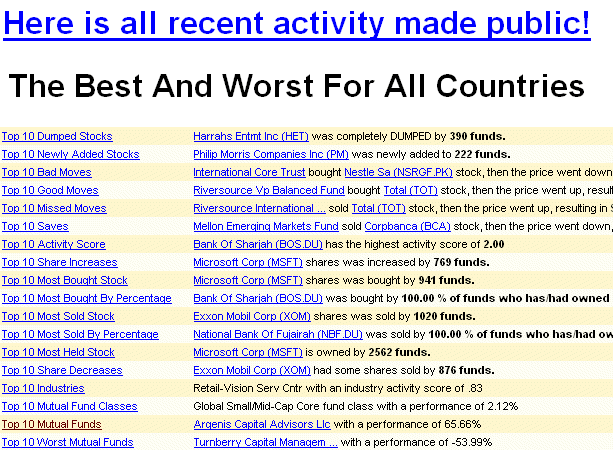 This site is loaded with useful information. Say I want to find out what is going on with Silicon Imaging (SIMG):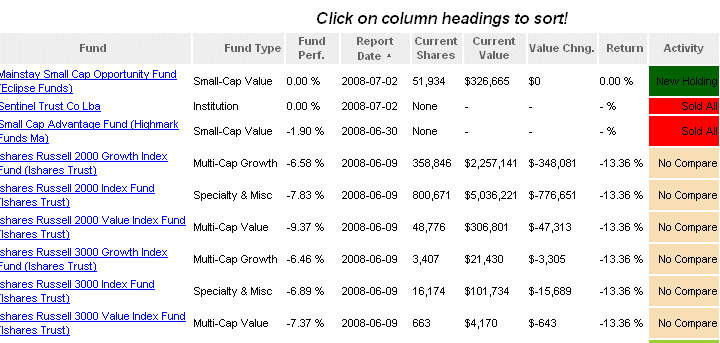 What about Hodges (HDPMX) - what are they holding and and how are they doing?: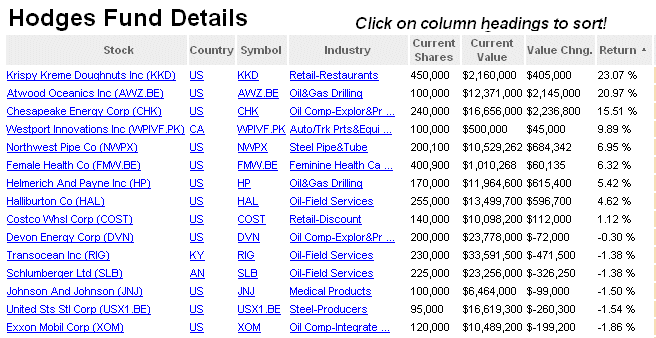 Or how about the US market at large?: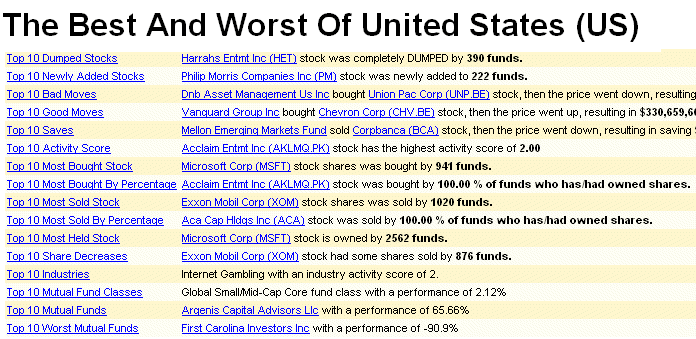 It's a great site and it's free!