---

Western Lithium - WLCDF
Another Update on My Favorite Penny Stock





This month there was a heck of a write-up in the Reno Gazette Journal on Western Lithium. The article was re markedly well balanced and here are a few snippets: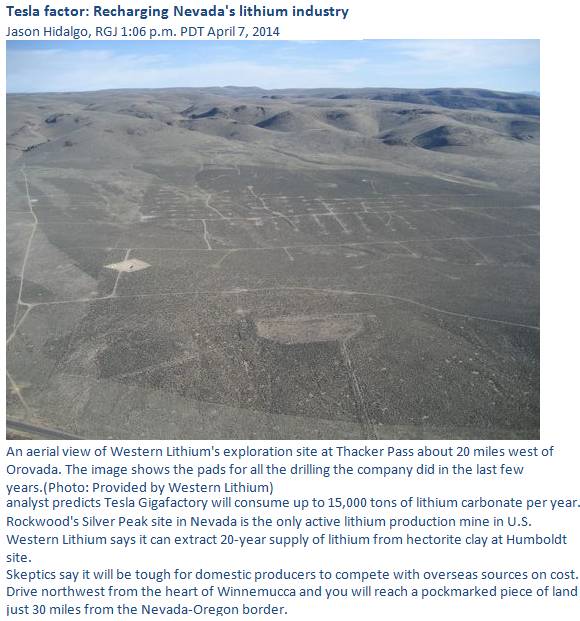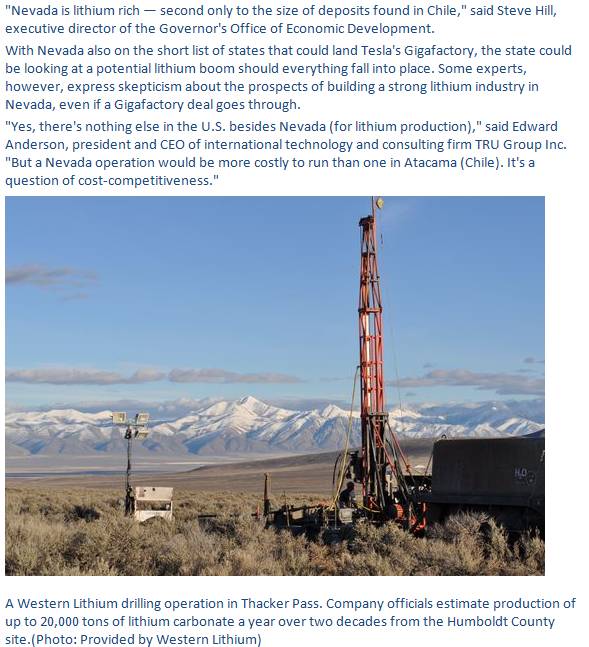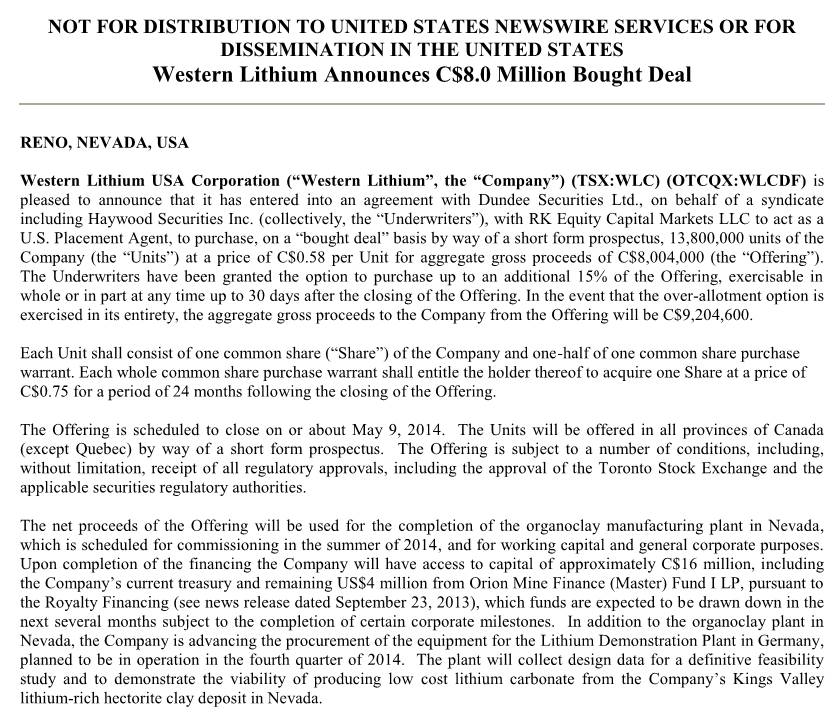 The upshot of this seems to be the issuance of new shares to support ongoing activity. From what I have been reading, the Organoclay is going to be mined and manufactured first. This of course means having buyers for the product and a manufacturer capable of supplying enough product for the buyer at a reasonable price.

We'll see what transpires later this summer.

Meanwhile, I don't think it would be that productive to simply hold the shares. From what I've seen so far, this is a great candidate for trading on dramatic moves in the upward direction and then buying back as the shares drift lower.


---
Staples (SPLS) and 3D Printing (DDD)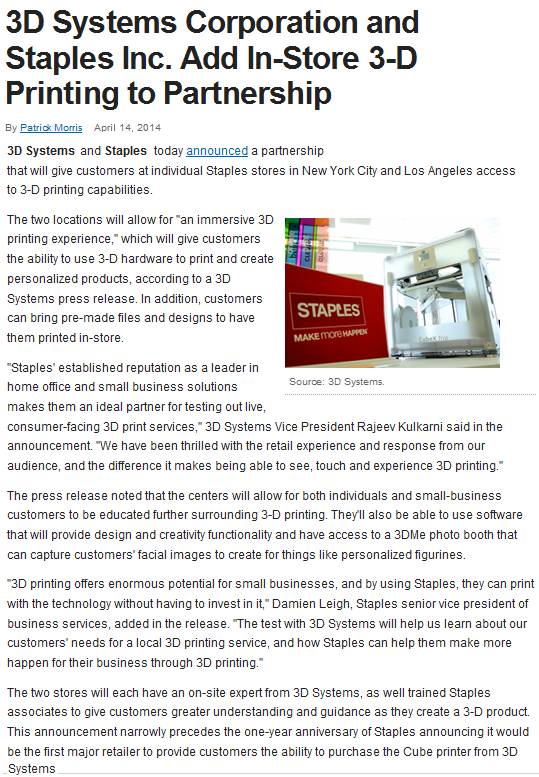 Staples is one of my favorites for swing-trading and the last month has been a profitable one with all the volatility going on. I have a core holding in Staples. Believe it or not, it is second only to Amazon when it comes to on-line retailing.

3D Systems I bought for a short time in the thirties and sold out in the 50's. The stock had quite a run after that, as well as a precipitous fall. At 46 and change, the company still sports a PE of over 100. Of the 3D printing companies currently occupying the space, I think DDD is the best of the bunch and just about the only one that actually earns a profit. I'm thinking about taking a position in DDD again and was surprised to see the partnership with Staples, albeit a small one but, two stores is a starting point.


---
Caesar's Acquisition Group (CACQ)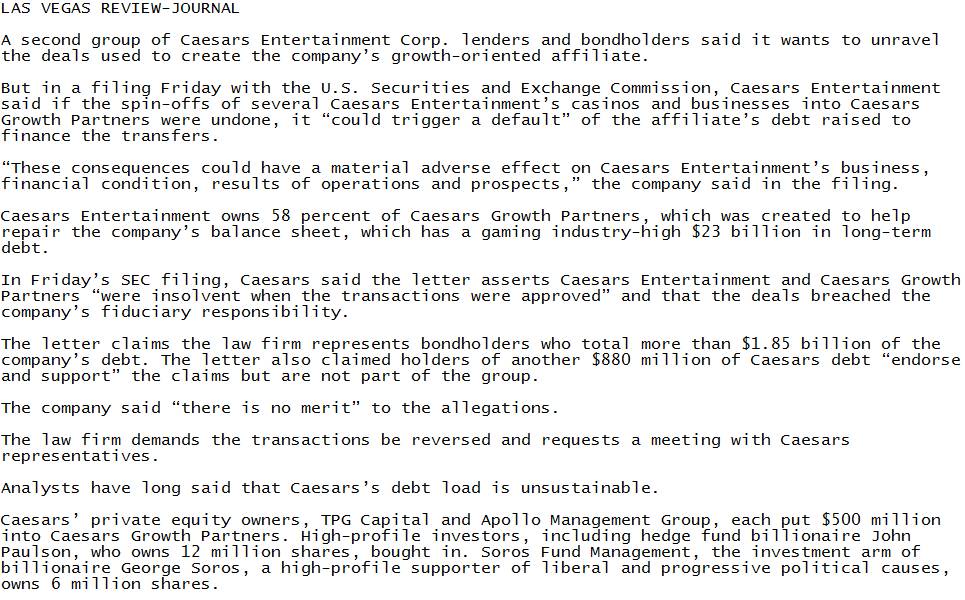 Boy, I am having second thoughts about CACQ and having it as any kind of a long term hold as a play on the expansion of on-line gaming.

Having read numerous articles and posts about the company, it is hard to tell who to believe. Commentary ranges from a solid play within the sector, to a company whose only existence is to take the parents toxic debt off its balance sheet and off-load it onto CACQ.

I would say the general opinion is tending towards the latter, as referenced once again in the above snippet.

I am currently out of CACQ and think it might be wise to stay that way.


---



Synovus Financial (SNV

) a Cheap Stock Still Worth a Look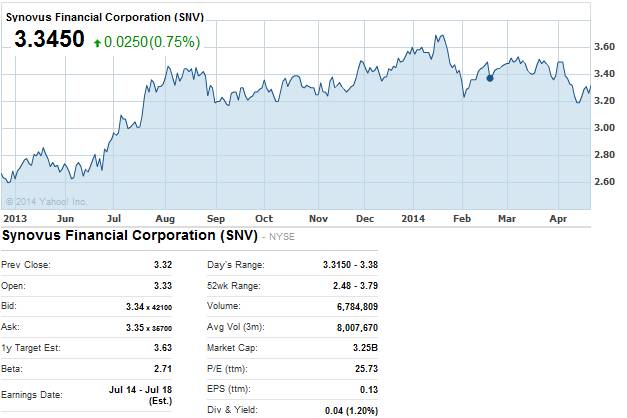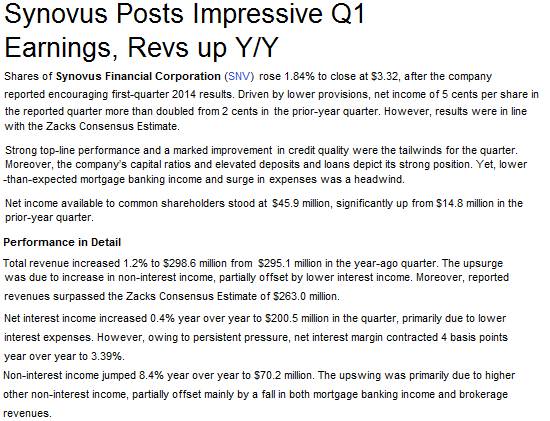 Some of these regional banks a looking quite attractive in light of the allegations and investigations about High Frequency Trading (HFT) that a number of the big banks are alleged to have been involved with. It doesn't say much about oversight when it takes a novelist to bring the topic of front running to light.

Synovus is one of my favorite smaller, regional banks and I doubt they do much dealing in HFT. The bottom line is slowly improving, as well as the improvement in credit quality. I'd like to see this go over the magic number of $5.00 a share, although I don't think that is going to happen anytime soon unless..........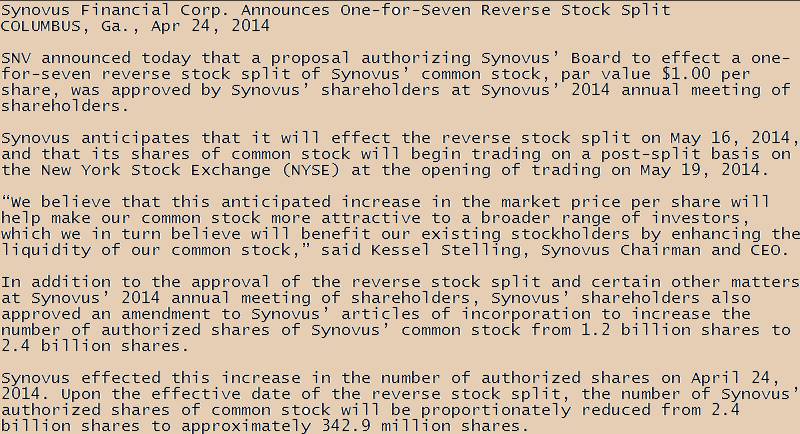 A reverse split is usually considered a death knell for pink sheet stocks and since Synovus isn't one, this has some merit. A reverse split at these prices would bring the share value up to over $21.00 and that I think would definitely generate more interest with institutional as well as individual investors.

For someone looking to hold long term, SNV is a decent prospect. I think HBAN is another one worth considering as well.


---
Morningstar's Instant X-Ray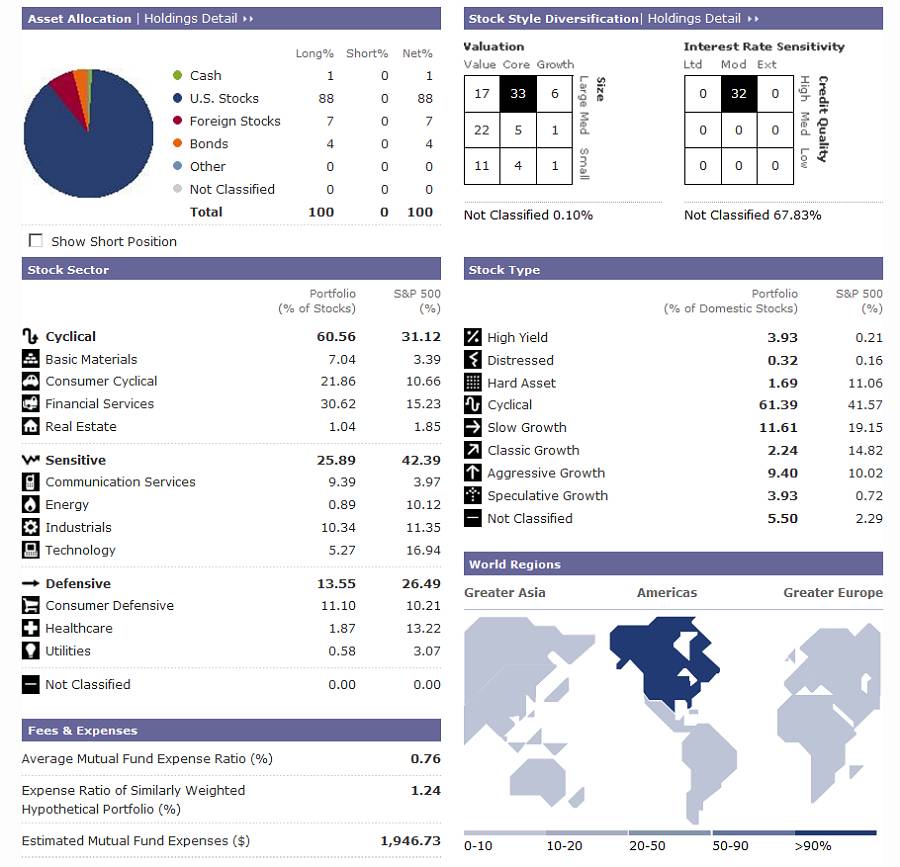 It is good practice to periodically use a service like Morningstar's Instant X-Ray to evaluate your portfolio allocation. I do this at least twice a year.

I am fine with this allocation, in fact I am a bit surprised as to how good it looks as compared to where I would want it to be.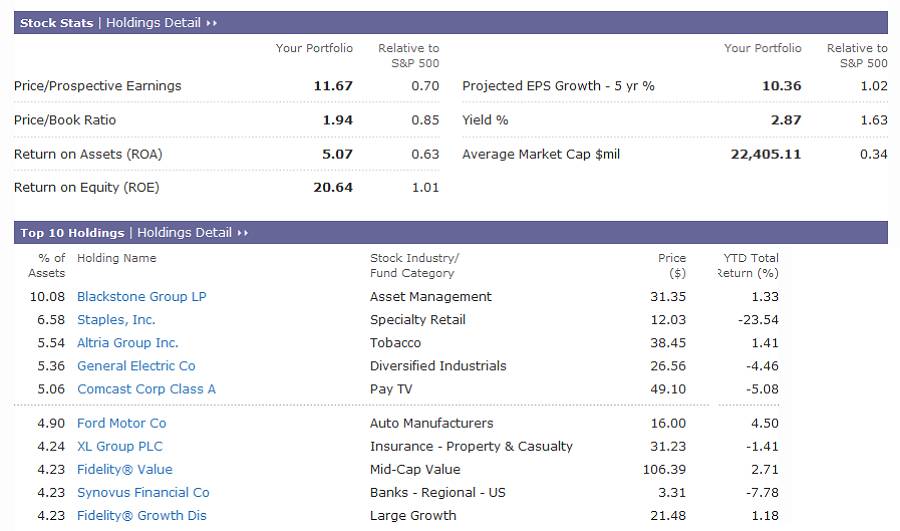 Blackstone and Staples are overweight because I bought a bunch of shares on the cheap a week or so ago, and am hoping to off-load them for a profit at a later date. I would say that if I were to play Cramer's 'Are You Diversified', I would get a pass.

On the other hand, Warren Buffet has been quoted as saying that diversification is a way of protecting those who don't know what they are doing, from doing too much damage to themselves and their portfolios. I think there is some truth to that.



Stock Types - My Opinion





High Yield

- If you are going for yield, why not. If it is quality and in a tax sheltered account, so much the better.



Distressed

- I stay away from them unless the distress is the result of a knee-jerk reaction.



Hard Asset

- Don't particularly care for the sector, unless it is for speculation.



Cyclical

- Overweight, if you think you are in an uptrend, albeit a torturous one.



Slow Growth

- Not so much while in the accumulation phase.



Classic Growth

- See 'Slow Growth'



Aggressive Growth

- An indexed allocation and few if any high fliers with stratospheric PE's.



Speculative Growth

- Of course. After all, I'm from Nevada.



Not Classified

- Of Course - see 'Speculative Growth.'


---

Stock Sectors - My Opinion



Basic Materials

- Absolutely, if you think the economy is expanding



Consumer Cyclical

- Absolutely - see 'Basic Materials'



Financial Services

- Absolutely - see 'Basic Materials'



Real Estate

- Underweight. I think most of the money has already been made in this sector.



Communication Services

- Sightly overweight and the reason should be obvious.



Energy

- Underweight, considering this administration's energy policy.



Industrials

- Equal weight.



Technology

- Underweight. With the exception of Apple, I'm lousy at technology picks.



Consumer Defensive

- Equal weight for some stability.



Health Care

- Underweight., considering my opinions on TeleprompterCare and what it is doing to the most important participants in the sector.



Utilities

- Underweight - see 'Energy'


---

And......the latest Capitalist Pigs News Letter


---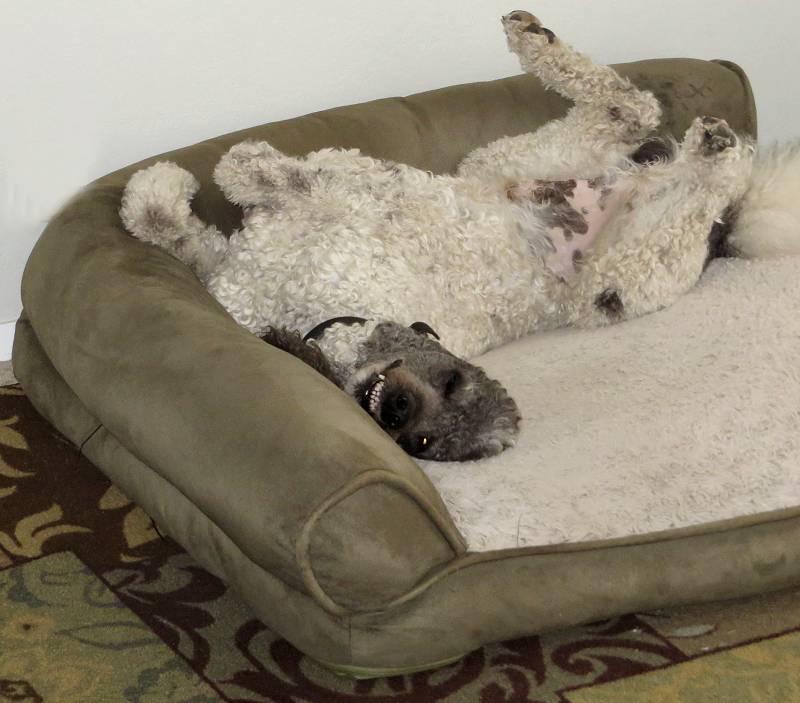 A Dog's Life